Business Owners
Learn How to Protect Your Assets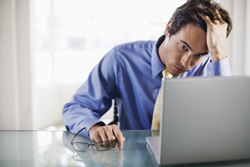 WE NEVER PLAN TO MAKE MISTAKES.
As business owners, we are focused on running our business. Every day brings new challenges, opportunities, and decisions. But there are six mistakes that consistently cause businesses to fail. And we need to know what they are and how to avoid them.
The Workshop
We provide a unique educational workshop appropriately named BusinessKillersR. The name refers to the six common mistakes that can destroy a business and compromise everyone involved. We conduct the seminars on a quarterly basis at various Chambers of Commerce around Houston. We can also provide an individual presentation in the privacy of your own office.
The Six Topics
We have heard all of these responses thousands of times over the past three decades of working with business owners:
"I know what my business is worth."
"I'm too busy running the company."
"That will never happen to me."
"There's plenty of time for that."
"My business IS my retirement."
"You can't beat Uncle Sam."
Each of the six topics is presented in a short video vignette that will dramatize the mistake. During the workshop, we'll discuss possible outcomes and solutions for each mistake. You will also listen to an objective third-party consultant present his or her view.
Risk Barometer
A unique and very powerful aspect of the workshop is the ability to evaluate your own risk. The risk barometer booklet was created by industry experts and provides key questions for you to answer relative to each mistake. They are simple "yes/no" questions.
This program is extremely effective in helping a business owner identify, anticipate, and avoid these pitfalls.
Opportunities
Once you assess your risk and choose to move forward with solutions, we have an open architecture of products and companies with which to design a solution. They may include:
Business continuation
Buy-sell design and funding at death or retirement
Buy-sell design and funding at disability.
Key employee retention
Executive benefit design and placement.
Key person insurance.
Executive compensation
Supplemental employee retirement program design and placement.
Should be designed as a discretionary program for your top executives.
Non-qualified compensation
A business owner should have an investment portfolio outside of and not correlated to the business.
Retirement Exit strategy
Looking at the best way to transfer your business to the next owner.
What if the market or economy isn't friendly when you are ready to retire?
Estate Planning
The estate planning laws, though relaxed now, may not be friendly when one dies.
Without planning, estate taxes, income taxes, attorney fees, accounting fees, poor appraisals (or no appraisal), sales charges, and forced sale of assets may be waiting to confiscate your wealth and can provide frustration and distress to your heirs.